Term 3 Newsletter - Headteacher Update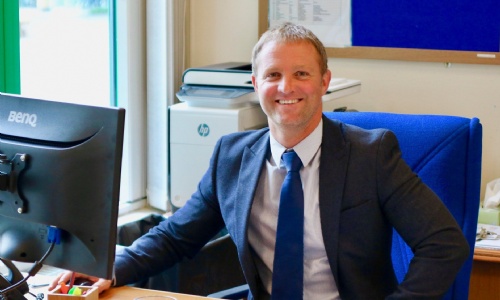 Dear Parents and Carers,
Spring is slowly and steadily on its way - the long dark nights are gradually getting shorter and we are beginning to notice the days getting longer. I have been encouraged that so many of our students continue to work hard and remain so positive in such challenging times. We are grateful for the resilience and commitment of our students that even though this year looks very different, they still continue to put in the effort as it will pay off in the long run.
Our Three Guiding Principles, as you know, are:
To live without harming others
To do acts of kindness
To show respect for others
These are the expectations we have of every single person at Barnwood Park and the vast majority of the Barnwood Park community meet these principles each and every day. They are essential for our strong family community. Please continue to support these ideas at home and ask your child what they have done that day to support these principles. It is really important that these are reflected in the way we all work together to achieve the best outcomes for our children.
We have a wealth of evidence that shows if your child has good attendance at Barnwood Park, they will achieve excellent results. We ask for your continuous hard work and support to make sure that your child does not miss school unless it is absolutely unavoidable.
We are working hard on interventions and extra-curricular opportunities for all year groups to aid students and enhance their attainment and progress after the disruption from the COVID pandemic. We ask all parents and carers to support this work and encourage your child to attend interventions and engage positively in all lessons and activities to help the impact of this work. We are hoping that with the reducing numbers of COVID nationally and the vaccination programme, we will now see less disruption to learning.
Year 9 Options
We expect all students to take a responsible role in their choice of option subjects with information, advice and guidance from staff at the school. Our Year 9 Curriculum Evening, on March 3rd 2022, is a chance for all parents, carers and students to speak to subject teachers about their subjects at Key Stage 4 before making their final Option Choices.
There will be a range of activities to help students make the right choices. This will include:
Presentations from subject teachers giving information about the subjects on offer
'Taster' lessons in some subjects that would be new to students
Meetings with senior staff to discuss their option choices
Lessons in PSHE focusing on careers and option choices
All students will receive additional information and advice from their subject teachers, and will have the opportunity to discuss the various pathways at school with a member of the Leadership Group, their tutors or our Careers Co-ordinator Mrs Adams. All students will continue to receive regular and detailed careers advice throughout Years 10 and 11.
It is important that students find out as much information about the courses as possible before they choose their preferences. In this booklet, we include some useful websites to help with your research. Advice will also be given to students about reasons for choosing subjects.
Please see our website page here for subject video's and more information.
Upcoming Dates
Our students and staff have been making a difference by raising £1,705.23 so far this year for our link charities. We have non-uniform days planned as indicated below for our link charities selected by each year group through the Student Parliament.
| | | |
| --- | --- | --- |
| 3 | 18th February 2022 | House Charities 2 |
| 4 | 18th March 2022 | Comic Relief - Red Nose Day |
| 5 | 7th April 2022 | House Charities 3 |
| 6 | 1st July 2022 | House Charities 4 |
| | |
| --- | --- |
| House | House Charity 2021-2022 |
| Attenborough | Cancer Research UK |
| Jenner | RSPCC |
| Parks | Sue Ryder – Leckhampton Hospice |
| Whole School | Winston's Wish |
World Book Day is taking place on 3rd March 2022.
There will be lots of activities taking place based around literature and reading. On this day, students have the opportunity to dress up as their favourite book character.
Bikeability for Year 7 students will take place on 8th March 2022.
The Bikeability Trust is a Charitable Incorporated Organisation with the vision to ensure everyone has the confidence to cycle and enjoy this skill for life. The Trust manages, develops and promotes the Bikeability programme on behalf of the Department for Transport. Bikeability is the Department for Transport's flagship national cycle training programme for schoolchildren in England, and is a key component of Gear Change. Bikeability cycle training is a practical training programme, which provides schoolchildren with a life skill and enables them to cycle confidently and competently on today's roads. More than 3.5 million children have received Bikeability cycle training since the programme's inception in 2007. Bikeability runs over 2 days for 2 hours a day at a 2.1 ratio. Click here for letter with further information.
A reminder that Year 8 Parents Evening will take place online on 17th March 2022.
I wish you a safe and enjoyable half-term.
Kind regards
Mr Albon