Music
If your child is interested in receiving musical instrument lessons at Barnwood Park School OR would like to continue from the previous year, please click on the link below to complete an initial interest form online. We will then pass your details on to our relevant self-employed peripatetic instrument teacher and they will contact you with information about their lessons, what they offer, the cost and timetabling to get you started. Once set up, your contact will primarily be with the instrument teacher themselves. There is more information available in the online form below, but if you have any questions about how these instrument lessons are run at Barnwood Park School, please email Mr Pugh – spugh@barnwood-park.gloucs.sch.uk."
Click here - https://forms.office.com/r/vTDLX35gA8
Year 7
Topic 1 – Building Bricks
This unit looks at how composers have used the elements of music to represent the different moods in music. It develops pupils' awareness and understanding of the elements of music – pitch, tempo, dynamics, duration, articulation, texture, timbre and silence which will give pupils the necessary musical vocabulary to allow them to effectively describe different pieces of music at Key Stage 3.
Beginning with an explorative lesson on "sound", pupils are then introduced/re-introduced to the elements of music involving composing, performing and listening and appraising by listening to different pieces of music that describe the morning and night and relating to how different composers have used the elements of music to create different moods.
This project builds on all work covered in Key Stage 2. It presents an opportunity to extend ideas further and share previous experiences.
Topic 2 – Rhythm and Pulse
This unit introduces pupils' awareness to the importance of pulse as a fundamental upon which music is built and performed. Through the integrated activities of performing, composing and listening, pupils will begin development of their own feeling for and awareness of a regular pulse. Pupils will be able to make a clear distinction between pulse and rhythm and learn to use rhythm grids as a method of recording rhythm patterns. Pupils perform and compose rhythm patterns of differing complexity including rests, half-beats and accents.
The note values of a breve, semibreve, minim, crotchet, quaver and pair of quavers are introduced and pupils learn the name, shape and duration of each before analysing the names of stations on different lines of the London Underground to construct a rhythm chant which is notated using note values.
Year 8
Topic 1 – The Blues and Jazz improvisation
This unit develops pupils' understanding of bass lines and chords as a harmonic foundation upon which a melody can be constructed upon and as a foundation for improvisation.
Pupils begin by learning about the history, origin and development of the Blues and its characteristic 12-bar Blues structure exploring how a walking bass line is developed from a chord progression. Pupils also explore the effect of adding a melodic improvisation using the Blues scale and the effect which "swung" rhythms have as used in jazz and blues music. Pupils are introduced to seventh chords and how these are formed and their characteristic sound used in jazz and blues music. Pupils examine the lyrics of blues songs before composing their own set of lyrics for a performance of their blues song using different textural layers. Finally, pupils explore Ragtime Music as a type of jazz examining how chords have been used differently in a "vamp" style.
Topic 2 – Variations
This unit develops pupils' ability to recognise, explore and make creative use of the elements of music found in variation form.
Pupils begin this unit by working with a famous theme and exploring different musical ways in which this can be varied and developed, using the elements of music and exploring changes in tonality and rhythm. Pupils explore how composers have used variation form in a selection of music from different times and places.
Finally, pupils learn about the concept of Ground Bass, as a type of Variation Form, performing Pachelbel's "Canon" and composing their own Ground Bass Variations before looking at how Ground Bass has been used in popular songs.
Year 9
Topic 1 – Rock and Roll
This unit introduces students to the genre of Rock 'n' Roll and its emergence in the 1950's. Students learn about the origins of Rock 'n' Roll and features which are characteristic of its style including bass lines, chords and revise the twelve-bar blues as a basis upon which many Rock 'n' Roll songs are constructed. Pupils learn about the construction of triads and how these are formed from bass lines as a type of chord producing harmony. Students take part in an ensemble performance of "Rock Around the Clock" before composing their own Rock 'n' Roll songs using features they have learned about during the unit.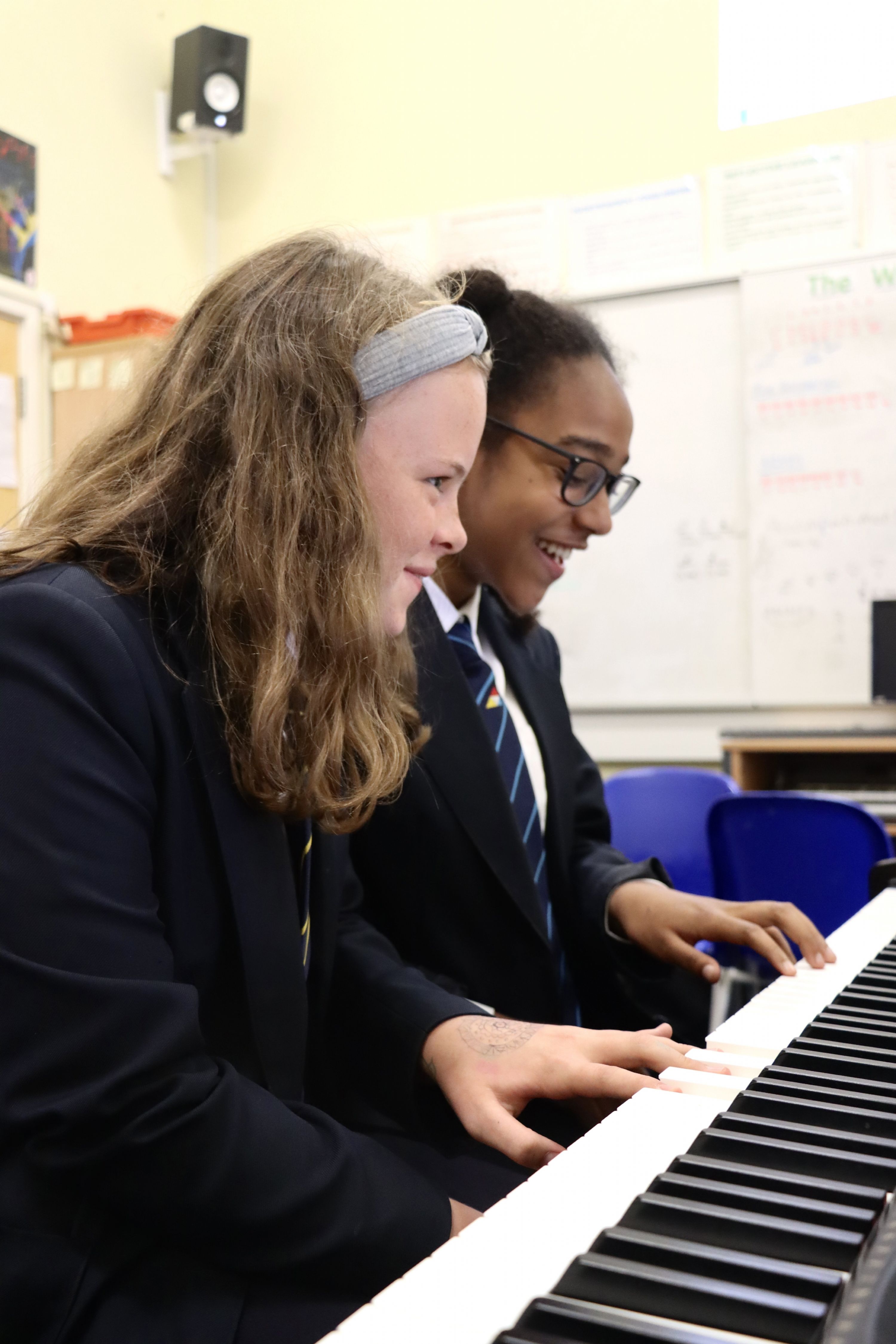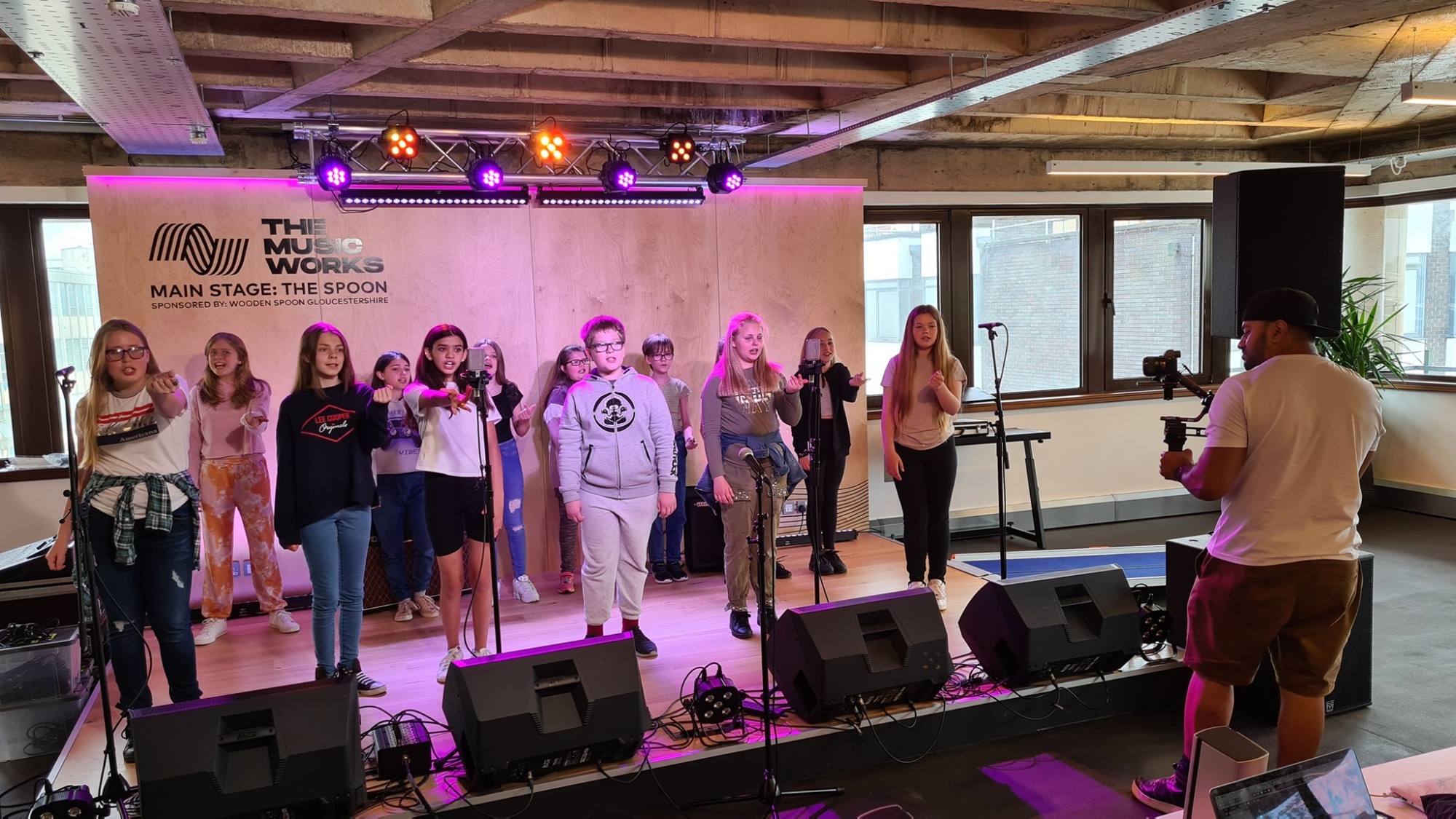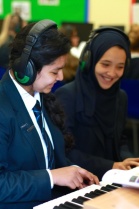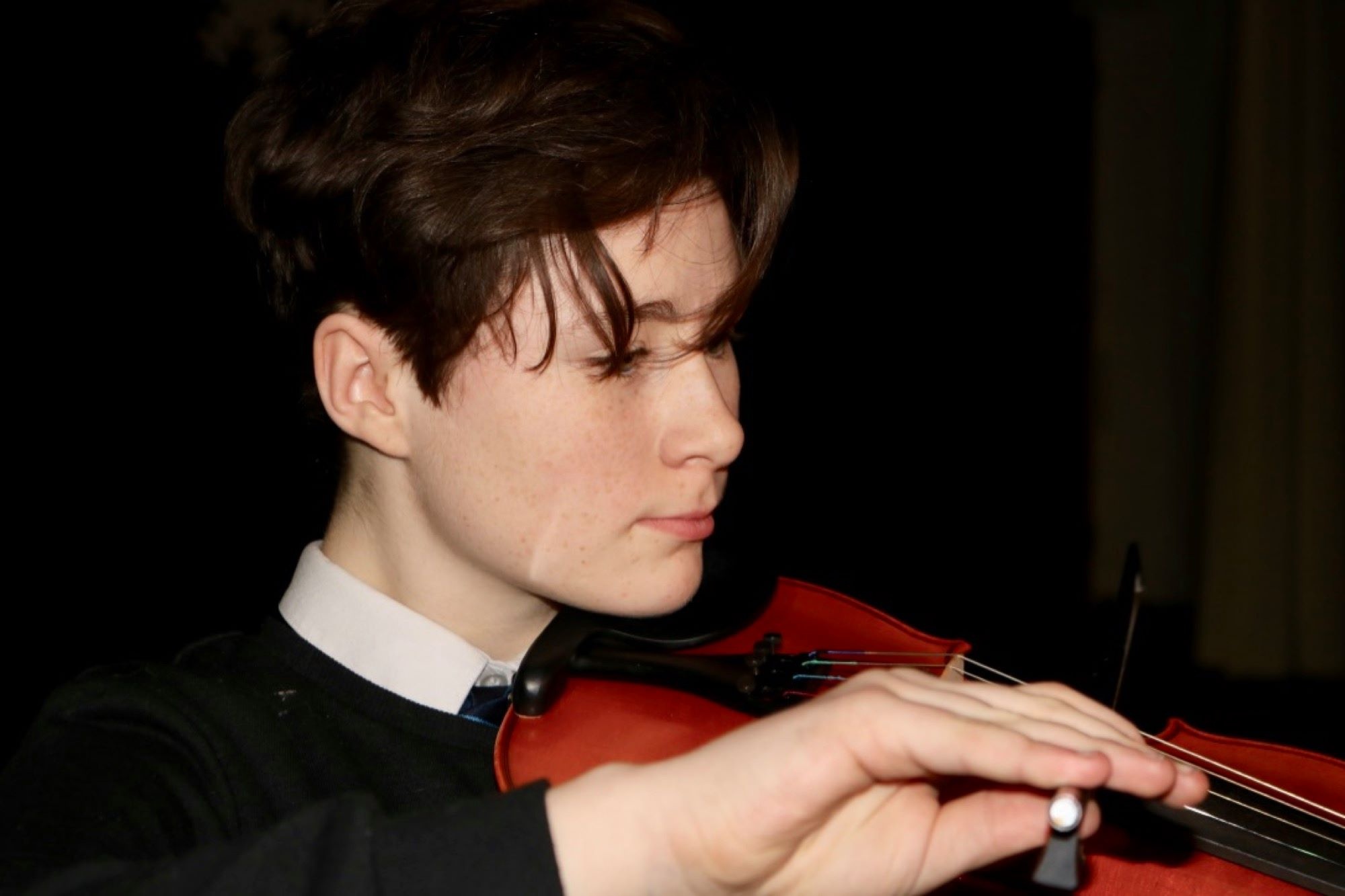 KS4
GCSE Music aims to develop the basic composing, performing and listening skills students have learnt in KS3 and help them use these skills to develop their own style of composing and performance. The OCR exam board course is split into 30% composition, 30% performance and 40% listening exam. They are given the opportunity to and are encouraged to see as many live performances as possible, are encouraged to take the lead in school music groups and activities, as well as expected to take part in as many school shows and performances as possible. KS4 Music is an extremely enjoyable and eye opening course, broadening the minds of our young musicians while encouraging them to develop their own ideas.